The Consumer Handbook on Hearing Loss & Hearing Aids: A Bridge to Healing
by Richard E. Carmen, Au.D., Editor
Book Summary:
In this one-of-a-kind Fourth Edition book, Dr. Carmen has brought together the most distinguished U.S. audiologists, scientists and authorities, each seasoned professionals in their respective hearing specialty, and some who themselves have hearing loss and wear hearing aids. What you'll read inside is state of the art, and designed to change your life!
This 2014 fully updated FOURTH EDITION contains a new chapter and full revisions from the previous 2009 edition. We are proud to continue to focus attention on technology that can help you besides hearing aids! Yes, this exists, is often less than $200, and can enhance your life so profoundly as to bring you from dissatisfaction to a significantly improved quality of life. This Fourth Edition focuses more sharply on the core issues of living with hearing loss. The book charts a quiet path on how to achieve life satisfaction despite less than optimal hearing. A recurrent theme of pushing through the resistance gently and sensitively comes through. You'll understand how to align your expectations with actual hearing ability. This book is written for consumers with hearing loss and their families. It addresses the whole person, not merely one aspect of the problem.
The Consumer Handbook on Hearing Loss & Hearing Aids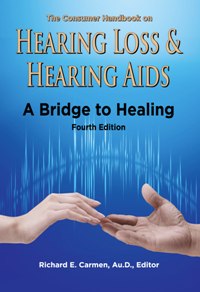 ISBN: 978-0-9825785-6-8
Hard Cover $24.95
ISBN: 978-0-9825785-5-1
Soft Cover $18.95